An Indie Christmas Gift Guide
Since starting my graphic design business last year, I've had the opportunity to work with and meet, so many amazing small and independent businesses, so I wanted to create a Christmas gift guide for the holiday season dedicated to some of them.
There are some seriously talented people out there, creating products from scratch from their passions, which not only brings joy and happiness to others, but often makes a difference to people's lives in the process. By purchasing a product, or using a services from a small business, you're often helping to support a family and helping someone achieve a life long dream of a happier work life balance.
Christmas is the perfect time to offer up some support and perhaps swap one high street/supermarket bought gift for something from an independent.
Here are some of my most favourite finds for the festive season. I've broken them down into categories depending on the gift recipient as I don't know about you, I always struggle to come up with unique and personal gifts for loved ones each year, (especially the men in my family) so having a guide and shopping independent often helps with this!!
I loved curating this post too and could have easily included hundreds more products, (I would have been here until next Christmas though) so be sure to visit each individual page if you see something that takes your fancy and I've also popped a Pinterest board link at the bottom of this post which has heaps more ideas for you to look at. I hope you enjoy the post and I'd love to hear how you get on with your Christmas shopping this year, so please feel free to drop me a comment or send me a message with your Christmas shopping stories and finds.
Founder Sophie Hutchinson makes all her jewellery in the renowned Hatton Garden in London. Inspired by nature, texture and travel these delicate and timeless pieces of jewellery are created in precious metals, paying particular attention to detail when it comes to design.
Add a little touch of whimsical magic to your ears with these Celestial Studs. Wear alone or mix and match with other earrings already in your collection.
Alice & Peg is a London based gift studio that cares about two things: delivering carefully curated gifts that the recipient will love; and supporting UK independent producers that care about how they make their products. Being kind to the environment is their thing - they never sell anything containing palm oil or parabens, ingredients are organic & vegan where possible, and all packaging is either biodegradable, reusable or can easily be recycled.
The Calm Box is for anybody that just needs a bit of help to relax - a hug in a box. A selection of products that aim to soothe and calm, this is a great gift for birthdays, Christmas, new mums or loved ones that need a little treat.
RELAX AROMATHERAPY SOY+ COCONUT WAX CANDLE
Myrtle & Maude was founded in Yorkshire, by Julia & Matty, who both grew up connected to the natural world and whose parents would always find natural remedies to cure any ailments. Grown out of these inherited traditions and knowledge, Myrtle & Maude's recipes have helped mums-to-be for over three generations, using values handed down from both their families.
This environmentally friendly soy and coconut wax blend candle, has a wick made from organic fibres, meaning it burns cleanly which allows a clear fragrance throw. This helps promote tranquillity, reduces stress and anxiety while bringing about a relaxing feeling - encouraging health and rest which can improve your mood. Perfect for any expectant mums over the Christmas period, or anyone who wants to bring some calm about during the holiday season.
MY ONE HEART LADIES SWEATSHIRT
Founder of My One Heart Laura, has not only created a gorgeous collection of sweatshirts and T-shirts, but purchasing from the My One Heart range, helps raise money and awareness for defibrillators I want everyone to be aware of the importance of having easily accessible defibrillators in public places. From every sale of my products, £5.00 will go towards putting 24-hour defibrillators in public places around the UK.
Money raised will go to Heart 2 heart Norfolk.
Hook Magazine is a biannual independent print publication that uses topics of spirituality to address issues within contemporary culture. Creator and founder, Esme Rose, draws inspiration from her own spirituality and background in fashion to explore the niche themes that illuminate each issue, Helping conscious women find more meaning in the modern world.
Grab The Earth Goddess bundle with issues 3 and 4 together and save £5.
THE COVEN CHRISTMAS GIFT CARDS
I've been a part of The Coven for over a year now, and as someone who runs my own business, I've found this amazing community invaluable and filled with inspirational advice and support on all topics, from everything to marketing, finance, planning and more. I wanted to share the fab Coven Gift Cards, as for anyone just starting out in their own business its a brilliant present, because you're quite literally investing in that persons future for them and welcoming them into a fabulous community.
Gift cards are limited so visit The Coven website to find out more and get yours before they sell out.
ROSE GOLD CIRCLE NECKLACE
Diamond in the Sky is run by British designer Kirsty McMahon, combining her love of all things bohemian, bright and beautiful. A lot of inspiration comes through travelling and collecting new charms from all over the world I've been lucky enough to work with Kirsty on some graphic design projects over the past couple of years and her jewellery is gorgeous!I love the little cards with meanings and descriptions on which make them the perfect gift for giving.
Diamond In The Sky constantly updates its collections with new and exciting pieces including semi precious gemstones and lucky charms and every piece is delicately made by hand. Designed or reworked in the UK with love and care.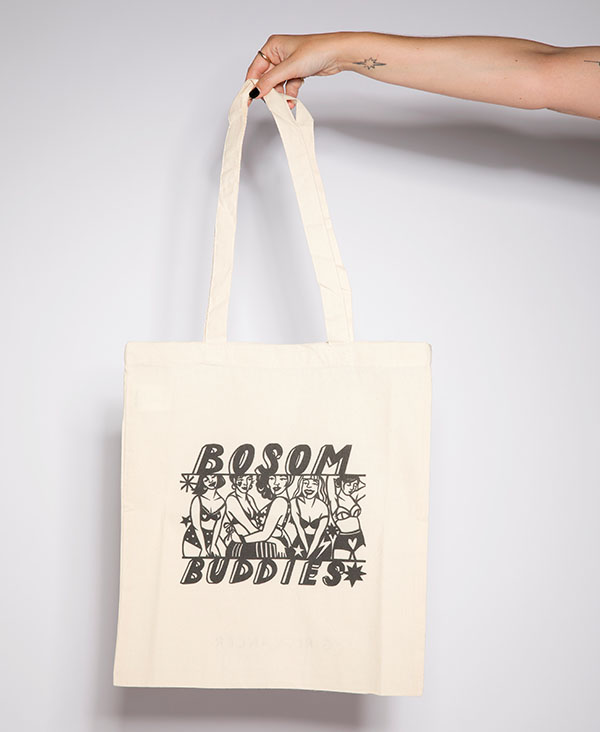 Get involved in the GirlVsCancer movement and help raise funds for some incredible cancer charities. This fab cotton Bosom Buddies Tote Bag was designed in London by Poppy's Papercuts for GirlVsCancer and 25% of each sale will be split equally between Coppafeel, Future Dreams, Trekstock and Look Good Feel Better.
Lauren Mahon started the GirlVsCancer movement when she was diagnosed with an an aggressive cancerous lump in her breast, in 2016. Fed up of the perception that cancer is a disease for the over fifties Lauren decided to grab her breast cancer diagnosis by the boobs and began sharing the nuances of her cancer beating crusade on her blog and instagram sharing tales of her treatment in an authentic and accessible way in an attempt to tackle the cancer taboo and create a better understanding of the challenges facing those diagnosed with cancer in their 20's + 30's. Be sure to check her out for some seriously cool t shirts and accessories that will not only make great gifts for Christmas, but make a difference in the process.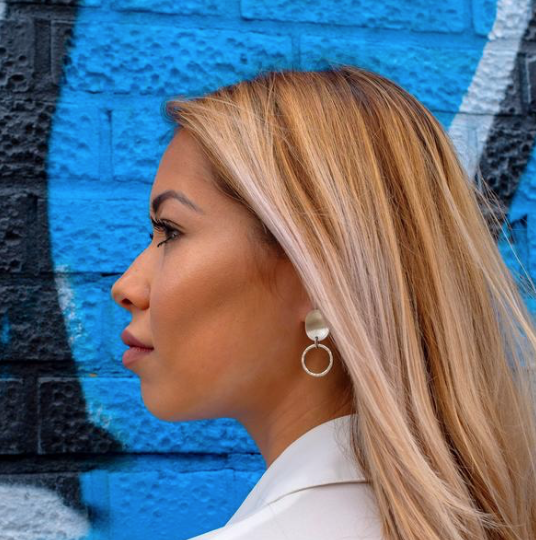 Handmade by a hairstylist turned silversmith, Babes & Bad examples is a jewellery brand pushing limits, breaking boundaries, and blurring the lines between traditional and next level. Jewellery you can wear day in and day out.
The Conbabe earrings incorporate two textures and two polishes, and has substantial weight to them but it wont drag you down. As with most of their jewellery, the CONBABE earring transitions well from all hours in the day and night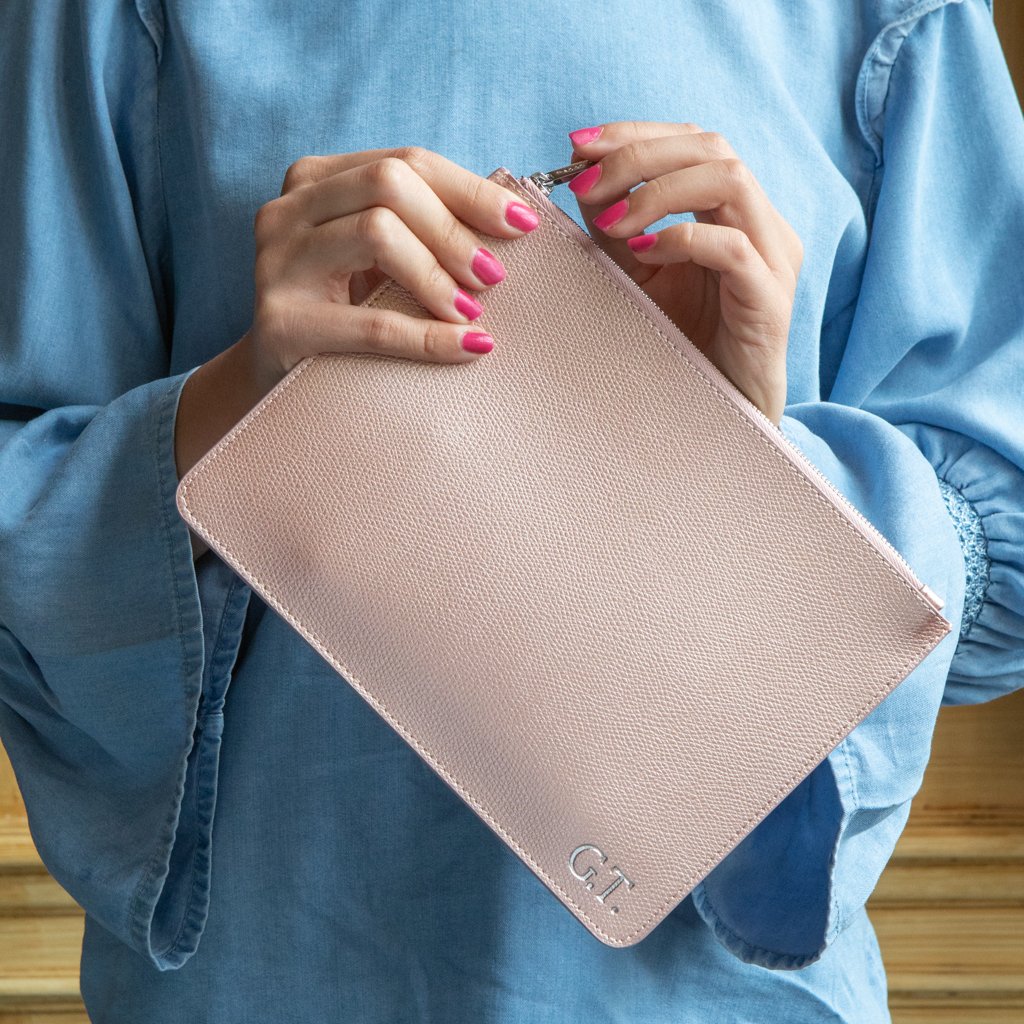 PERSONALISED LEATHER SLIM CLUTCH BAG
Be Golden started out in 2009 and are based in Wiltshire and Oxford, making and designing leather goods from premium recycled leather.
These luxe pouches have so many uses: they can be popped in a handbag and used for make up, receipts, tickets etc, used as a passport/boarding pass holder when on your travels, they can be kept in a desk for papers, documents etc, and they also double up as a small clutch, as will easily hold a phone, lipstick and a few cards.
Available in various colours, you can also have them printed with foil letters to match the zip. Made from premium recycled leather with a luxe reptile effect finish and fully lined in a matching fabric.
Designed by Yvonne and her two daughters from their studio in Edinburgh, Highland Angel's stylish range offers something for everyone.
A contemporary twist on a classic design, Highland Angel watches are engraved on the reverse of the face, making them the perfect gift for someone special and are sure to become a treasured keepsake. The watch, with a classic strap and simple face, sits close to the wrist making it chic and comfortable. Beautifully designed, it is a real show stopper.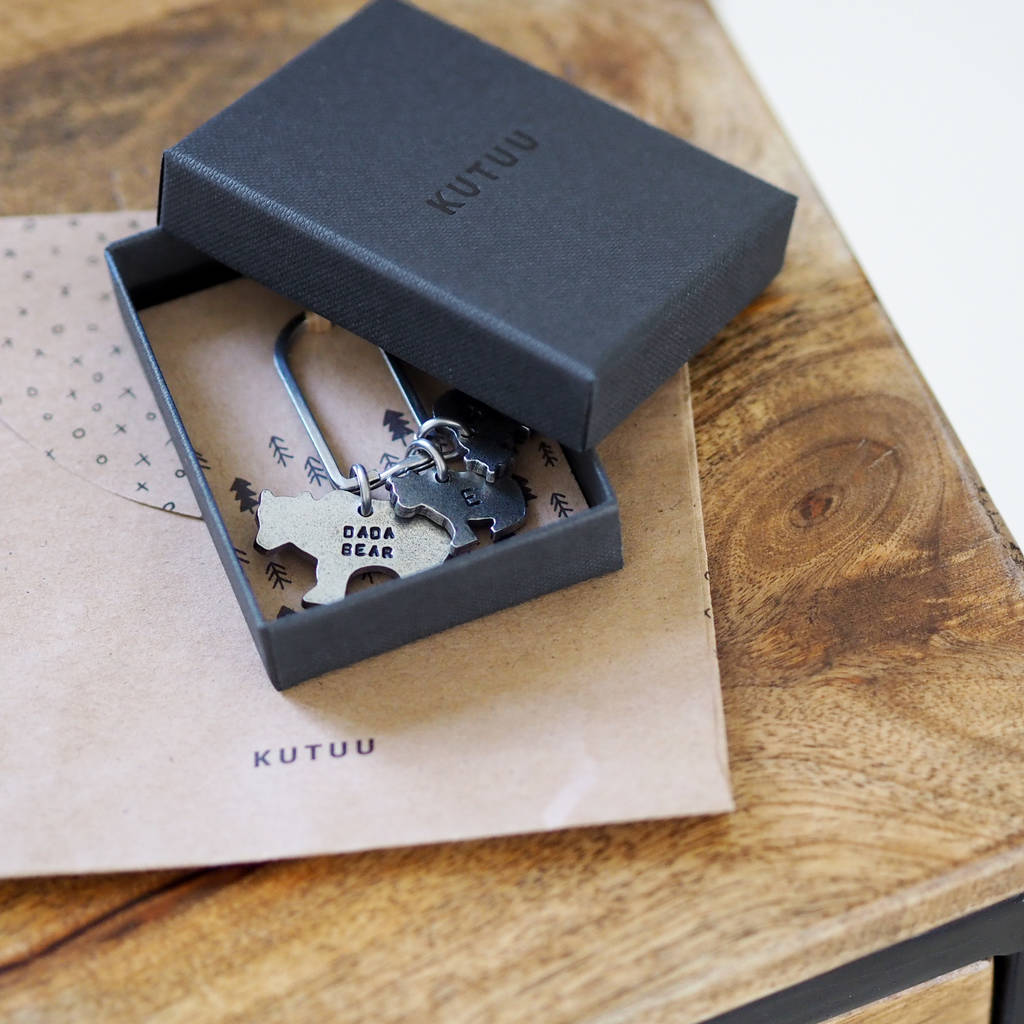 Kutuu is a small family brand taking inspiration from everyday moments to create meaningful metal keepsakes. They wholeheartedly believe that sometimes it is the smallest things that hold the greatest meaning and it is with this idea in mind that they create sweet symbols and meaningful messages for you to tuck into the pockets of the ones you love.
This un-bear-ably sweet keyring for your papa bear. Choose from names including "dada bear", "daddy bear" and "mummy bear" for your grown-up bear and add an initial to your bear cubs to make up your own mini family. Your personalised bear family will arrive with you on a 'D' shaped split ring that is ready for keys, packaged inside a Kutuu gift box and paper pouch. Made from pewter bears with stainless steel fittings..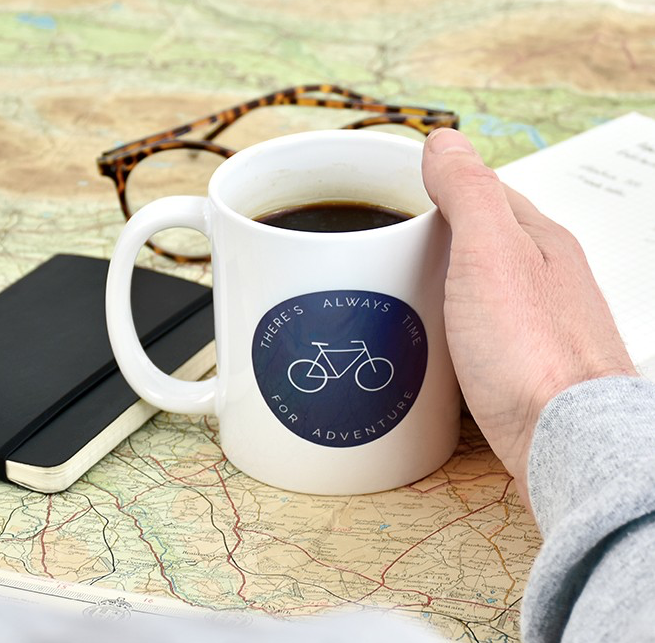 ALWAYS TIME FOR AN ADVENTURE MUG
Ellie Ellie is a multi-award winning British giftware brand, bringing people together through all life's moments. Proud of their British heritage, many products by Ellie Ellie are sustainably designed and made in their Sussex HQ.
With a contemporary and linear design, the adventure mug is a great gift for your adventurer, whether they are into camping, cycling, fishing, climbing or just drinking tea.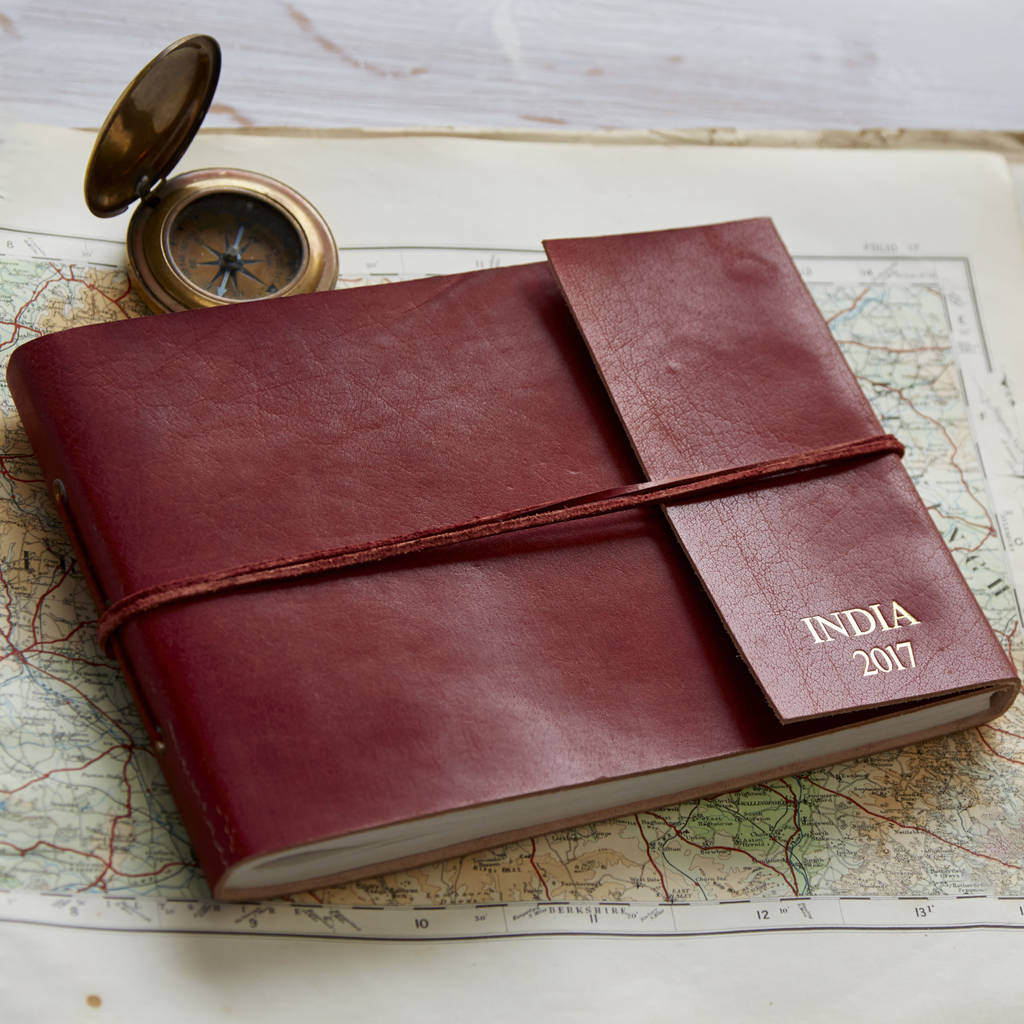 PERSONALISED LEATHER PHOTO ALBUM
Paper High love to seek out the most beautiful products and gifts being produced by Fair Trade organisations in India, Nepal and Sri Lanka. They started their business in 2001 through a love of travelling and Fair Trade, and are proud to be working with some incredibly inspirational producers and to be able to help their local communities.
Their beautifully distressed leather photo albums are ideal for storing and sharing your most treasured memories, making sure your special moments are celebrated in style. Beautifully handmade, eco-friendly and Fair Trade, they also make a difference to the communities who make them, as the cotton is made by a charity that promotes women's development in rural areas of Rajasthan, India.
PERSONALISED HAND EMBROIDERED BABY GROW
Delicious Monster Tea is a one-woman-show run by Claire from her home studio in Cardiff. Claire sells t-shirts for everyone, whatever your age, gender or size. All items are embroidered which means you can personalise everything to have your own slogan, whether that be your cat's name, an awkward pet name or an inside joke! All personalised items are hand embroidered to a very high standard, making them the perfect gift Claire takes very special care to package every item beautifully so that when you receive your item you get a warm fuzzy feeling.
To top it off all products are 100% organic cotton and manufactured using sustainable energy. These sweet baby grows make a lovely gift for any baby's first Christmas.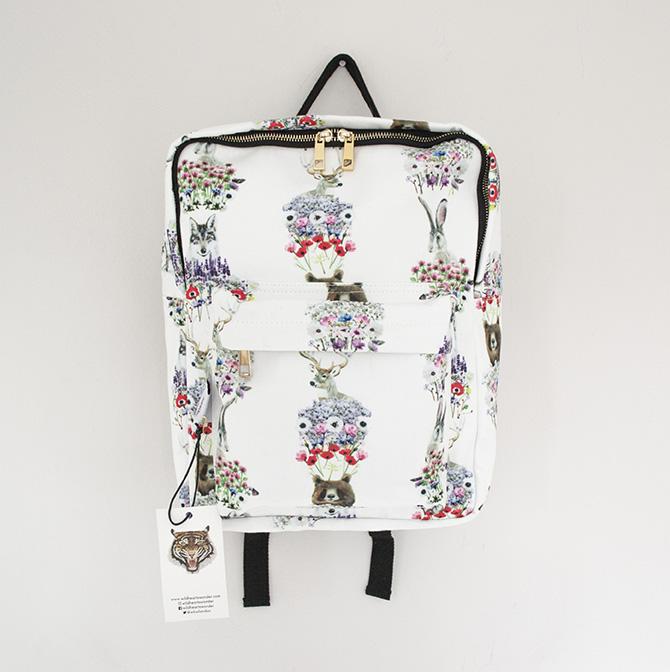 Wild Hearts Wonder is a brand that creates modern, unique and beautiful clothing and interiors for children. Started by two sisters who feel passionately about igniting children's imaginations, they spent their own childhood growing up by Epping Forest in London, enabling them to enjoy the beauty of the wilderness. They want to inspire children to think creatively, and encourage a love of wildlife and nature.
This floral, pretty and practical Nordic Animals backpack is in a modern boxy shape, digitally-printed in our hand-painted animal print. The backpack has a soft pale grey lining, and internal pockets suitable for a water bottle, and an ipad. It's finished with pale gold hardwear, it has a handy top handle, and adjustable back straps. Made from 100% heavy duty twill, this backpack is as durable as it is beautiful.
WHITE + BLACK SPOT PRINT PYJAMA
Kirsten, founded Bob & Blossom in 2000, following the birth of her baby boy Manny (middle name Bob). She started the brand by creating a range of Baby T shirts that she could gift to friends, who had also had new babies and not only were they a hit with her friends, local stores also wanted to stock them. Since then Bob & Blossom has grown to include a super soft cotton babywear range, sweatshirts galore, our ever popular Birthday T shirt collection and a selection of full on fabulous, frilly tutus. They are now stocked in many beautiful boutiques across the world, as well as their own little shop in East London's Columbia Road, home to the famous Sunday flower market. (Which is a beautiful store, I've been lucky enough to visit on a few occasions!)
These Super soft cotton, slim fit pyjamas are perfect for little sleepy + not so sleepy heads!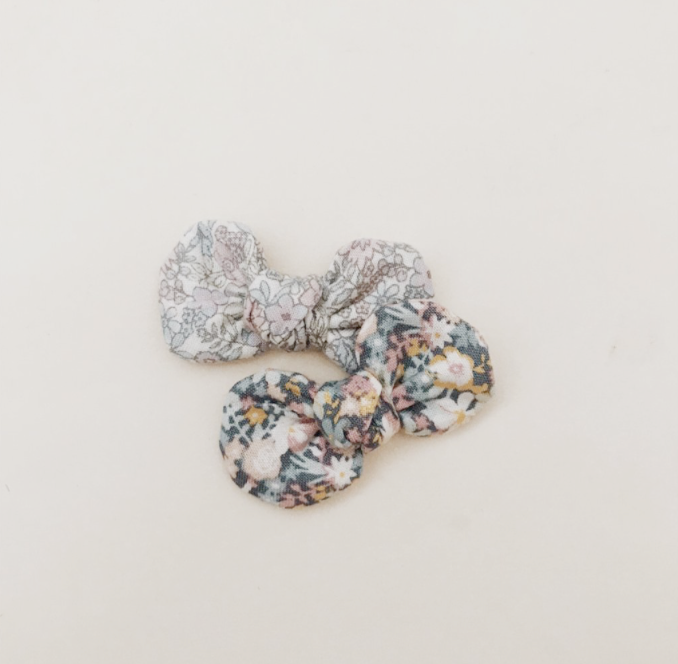 Mae and Rae was started by Corine Phillips who is a wife and mum based in Newcastle, Australia. I had to include Mae and Rae, as I stumbled across their Instagram page last year, and just fell in love with Corine's creations. Corine's daughter's Clover Mae and Talulah Rae are her biggest inspiration and after always wanting to try something creative, Corine learnt to sew – that is how Mae and Rae evolved. Developing her small business has allowed Corine to meet so many amazing mums and business owners and says seeing so many beautiful babies wearing her creations is special and rewarding.
These two beautiful floral bows are available as a headband or clip. Handmade with love so please allow 7-10 Days for your order to be shipped.
From as early as 14, founder Latticia has been watching her mother look after herself through eating well and nourishing her skin by making her own products like scrubs and masks. Around the age of 16 Latticia battled with acne and hyper-pigmentation, covering her skin in makeup to make herself feel confident. By the time she turned 20, Latticia decided she needed to take a wellness approach to her body and skin, cutting out harsh chemical products, eating better and making skincare products to help her skin. She then went on to form Latticia Organics, a lifestyle brand and platform in which she shares her knowledge on ingredients and wellness through digital content, beauty products & more.
Each product is made by hand in small batches and this gorgeous set has a Soufflé candle + 100ml of her famous whipped shea souffle with a free Latticia Organics cotton travel bag.
Wild Sage believe skin care should be simple, honest and good and all their ingredients are derived from nature. Born in 2013, in a small wooden cabin just outside Bristol, their first soaps were made with oats, honey and nervous anticipation. They now sell their soaps in many shops all over England and are at multiple markets every weekend touting the benefits of a simple and natural approach to skin care.

This balancing salt scrub contains their natural cold pressed organic Rosehip Seed Oil full of Vitamin A and Vitamin C and Apricot oil which has anti-aging properties and helps to reduce bumps and red marks on the skin. It also contains Vitamin A Vitamin B1 Vitamin B2 Vitamin B6, B17 Vitamin E.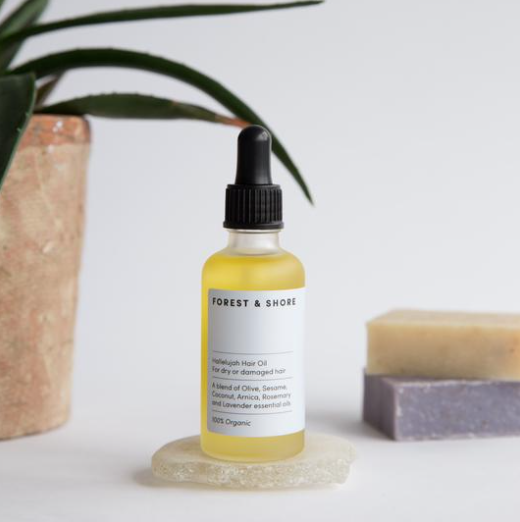 Forest & Shore is driven by a passion for nature, purity & honesty. Bringing luxury & nature together they pride themselves in delivering high quality skincare for the most effective results. They never test on animals; all products are vegan friendly & free from all harsh chemicals including synthetic fragrances, synthetic colours, parabens, sulphates, silicones, EDTA, & mineral oils.
This Hallelujah Hair Oil is a synergistic blend of coconut, sesame, olive, sunflower & arnica, scented with rosemary and lavender, the perfect solution for anyone with dry, damaged hair. It also comes in a very pretty illustrated box and frosted reusable glass bottle.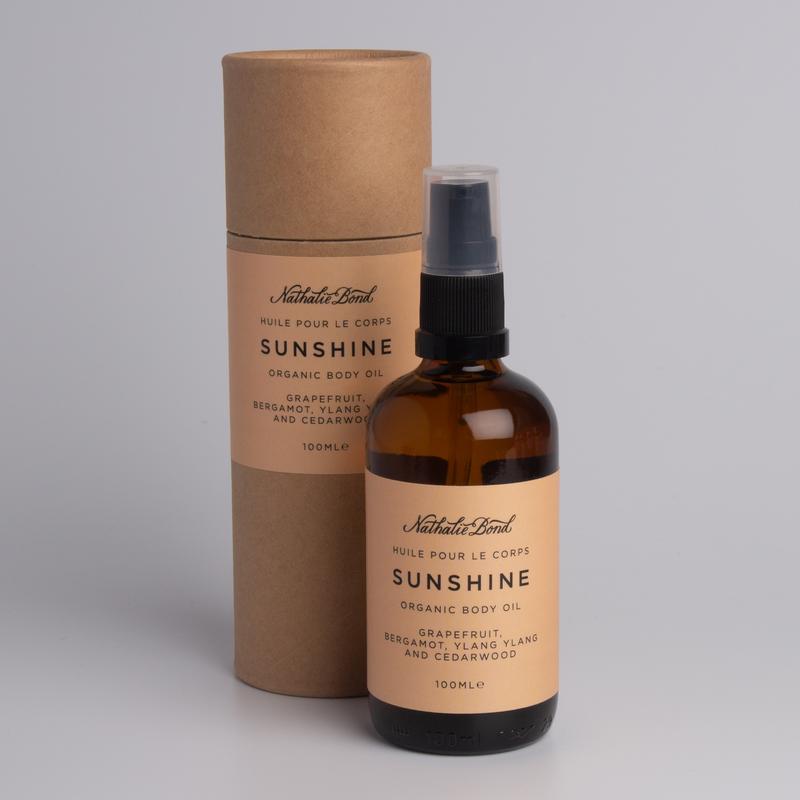 Nathalie Bond began a few years ago when Nathalie became pregnant with her first son, and she wanted to be more careful about what she ate and what she put on her skin. On average, women apply 168 chemicals to their skin every day and many women have no idea what they're actually using on themselves or the impact on long-term health. She made an instant decision to clear out her bathroom cabinet and began blending simple skincare that only contained natural cold pressed oils that are gentle, super nourishing and sustainably sourced. Every product fits into one of four categories: Cleanse, Exfoliate, Nourish, Relax. The brand believe these form the 'essentials' of beauty care. Simple design and colour is an important factor in their products creations and they hope that you embrace this journey with them, to a more honest, simplified and healthier way of doing beauty and life.
This Sunshine Organic Body Oil us a blend of nourishing Safflower and Jojoba oils, formulated to deeply hydrate dry and sensitive skin. 100% Natural, I love the coral packaging and the glass bottle would look stylish stored in any bathroom.

HANDMADE CHRISTMAS COOKIES
Kerry Ann's Cake Boutique is a gorgeous boutique kitchen based in Essex. Kerry began the business thanks to her Nan and Mum and early memories of cooking and baking, helping Nan make a pie for the family and having her very own piece of pastry to roll out, were very fond memories. Sunday was her favourite day of the week as it was Mum's baking day and she would so look forward to the afternoon when they were allowed to finally tuck into the array of tea time treats they had so lovingly made. It wasn't until more recent times that Kerry found enthusiasm for all things sweet merged with a new found creative streak, and she began designing & making cupcakes and birthday cakes for friends and family. With the support and encouragement of her nearest and dearest, her hobby began to grow into a small business. Kerry started to perfect her sugar craft skills which launched her into the wedding industry. She now loves creating lots of edible memories for lots of lovely people.
These handmade Christmas Cookies are beautifully made and delicious too, and would make the perfect gift for anyone with a sweet tooth this Christmas.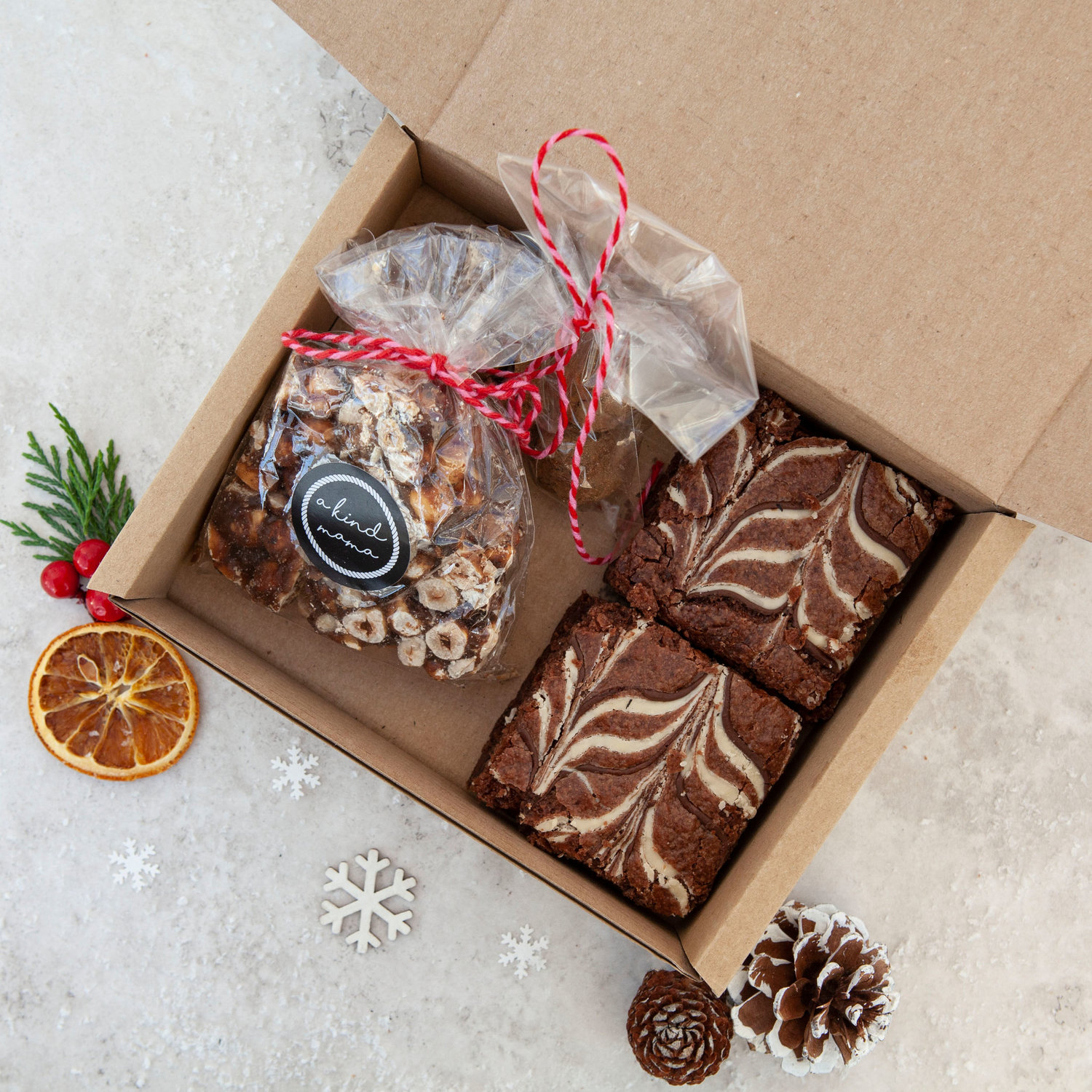 MIXED CHRISTMAS TREAT BOX
A Kind Mama Vegan Bakery was started as owner Eve couldn't believe it was so hard to find yummy vegan cakes. Eve just didn't think it was fair that living a cruelty free life meant people were missing out, so she started A Kind Mama Vegan Bakery. All products are 100% egg & dairy free, suitable for vegans and those with allergies.
The best gift for vegans & non vegans alike this Christmas is this Christmas take on their classic Mixed Treat Box, which includes, two vegan Baileys brownies, with dark & vegan white chocolate swirled on top, a bag of A Kind Mama peanut brittle and four Truffle Pig vegan chocolate truffles. These also come gift wrapped free of charge.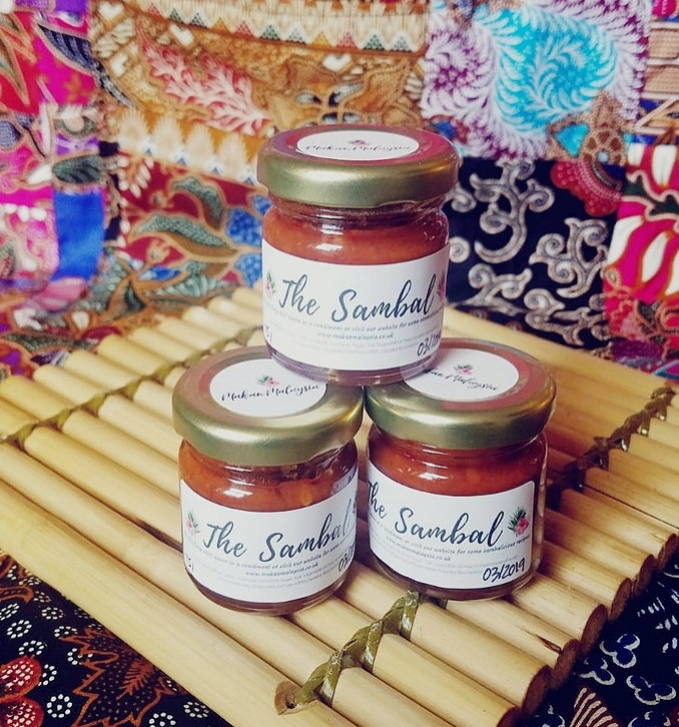 The lovely Kat and Su, founders of Makan Malaysia, have been friends since childhood and decided to launch their business based on their joint love for cooking after they couldn't find the foods that they missed from home. Kat and Su both grew up in Malaysia, but now live here in the UK. Their mission is to share a little bit of the food and culture they love with us all via recipes, supper clubs and market events. You can also bring the taste of Malaysia into your home with their bespoke range of sauces and culinary treats.
Packed full of heat and layered with flavours from home, The Sambal is the perfect accompaniment to any dish. From french fries to curry bases, The Sambal is ideal for adding a burst of flavour to your plate - and you only need a spoonful! Vegan friendly and nut free, a little goes a long way, but be warned it's not for the faint hearted as it is hot hot hot! Perfect for those foodies who love a fiery chilli flavour!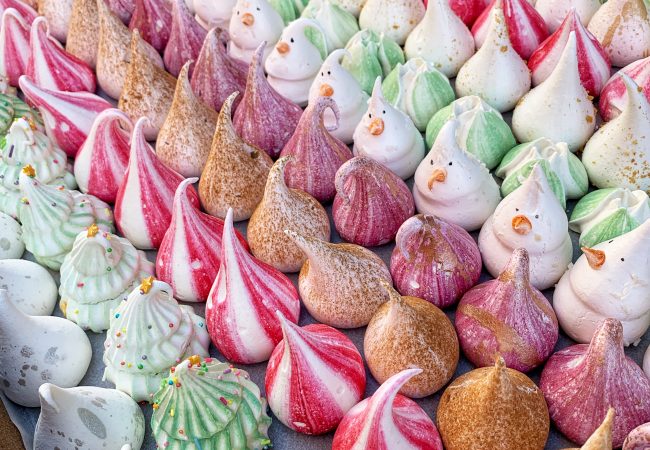 The Meringue Girls story began in 2012. The female founders met while working as chefs in a restaurant kitchen in East London. They quickly bonded over a love of all things sweet and saw a gap in the market.
They began introducing their creations via London's booming street food scene, quickly becoming an Instagram sensation, the girls had the top pick of London's leading department stores knocking at the bakery door wanting to stock their tasty treats. They have their own bakery in the bustling foodie hub of Broadway Market which they also use to run weekly meringue and cake baking classes.
Perfect for the festive season, their Christmas meringue kisses are packed full of flavour and look gorgeous as part of any Yuletide celebration. Choose from beautiful gift boxes of 35 or 54, or lovely wooden crates of 170, perfect for the office Christmas parties.
LARGE PERSONALISED MACRAME TRIM CHRISTMAS STOCKING
Founded in London in 2012 by product designer Katie Wagstaff, Oh Squirrel creates exceptionally well made and beautiful products. Inspired by vintage photographs, typography, botanical imagery and retro fabrics, Katie has created a range of pretty party supplies, stationery and gifts, and new for AW18, a range of Homeware. Katie's unique style of handwriting is used throughout products, including prints, cards and banners. This sets Oh Squirrel apart, as every piece in the range which features it is carefully drawn out by hand. There have been many opportunities to make this hand lettering into a font, however Katie remains adamant that the only person who can use it is herself to keep it special.
Brand new for AW18 is this simple and elegant stocking, clearly labelled so Santa knows whose it is. Made from cotton calico, and finished with a macrame trim, each stocking has the name of your choice printed in velvet handle flock, in Oh Squirrel designer Katie's handwriting.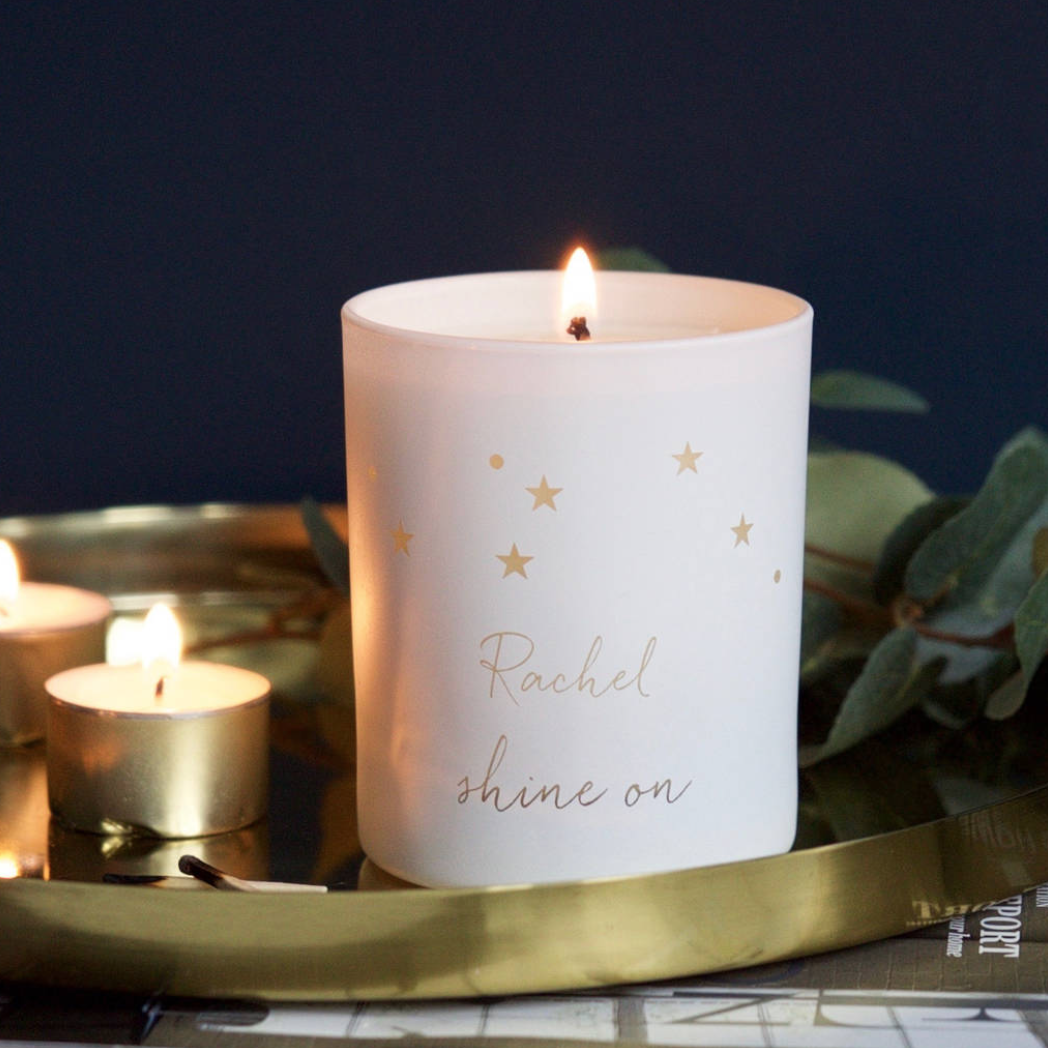 PERSONALISED CONSTELLATION SCENTED CANDLE
Illumer is a unique candle brand that holds emotion and empathy at its core. All Illumer candles are beautifully scented and hand poured in the UK, using recycled glass and cotton wicks. Every candle is made from vegan friendly 100% plant based wax infused with fine fragrance. Each candle will be bespoke etched at their studios in Surrey and will be sent to you in a branded drawstring pouch.
See your stars and words softly illuminated by candlelight when lit, making a lovely birthday gift for those you love. Elegant, personalised candle lids are also available and may be etched with your chosen words. All Illumer candles make lovely keepsakes too. Once your candle has burnt down you can simply place a tea light or flowers in the glass jar and continue to enjoy your chosen constellation.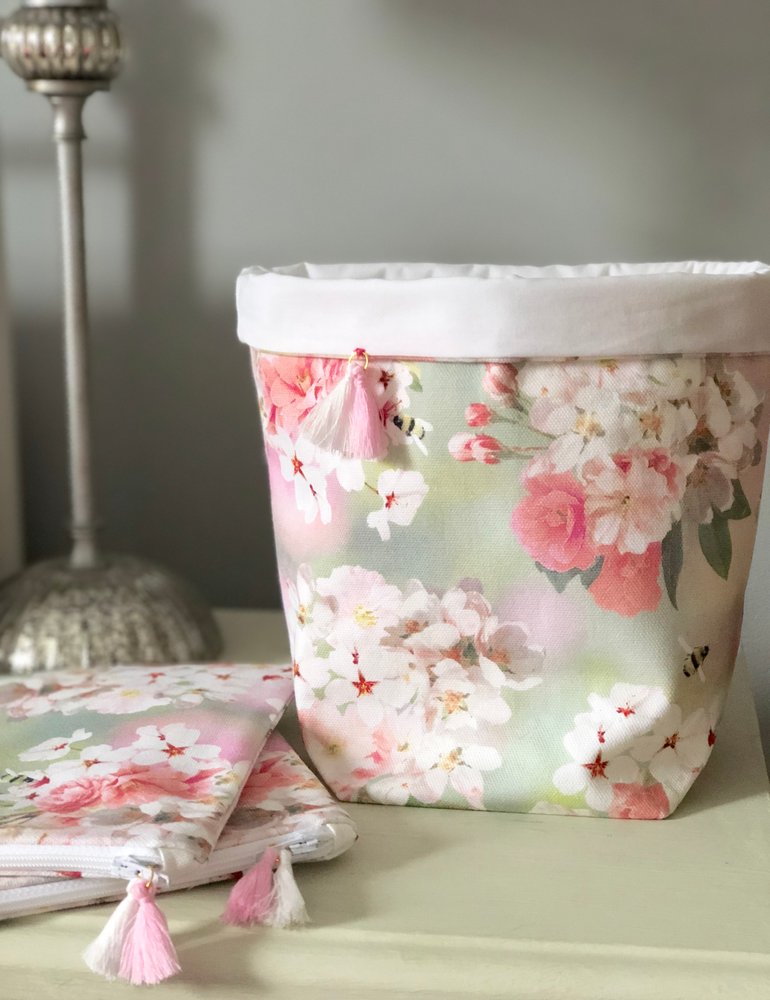 BLOSSOM BEE FABRIC BASKET
The floral world of Peonie Cole is a fresh and floral home and lifestyle brand created by textile designer Catherine Cole. Catherine's love of flowers and nature inspires her everyday to create timeless designs for gifts, and the home that celebrate the colour and beauty of British nature. After growing up and spending many years in Scotland, Catherine is now enjoying exploring her new home in Harrogate, North Yorkshire. (Be sure to check out Catherine's Instagram feed its beautiful!)
This beautiful handmade fabric basket is the perfect addition to any bedroom, studio or desk area. Featuring a delicate tassel and each basket is handmade by Catherine using lovely cotton half panama fabric which has been printed using eco-friendly inks in Britain.
PERSONALISED HEXAGONAL MARBLE COASTER
Memories of childhood holidays, lazy summers and cosy winters by the fire or playing in the snow are all a rich source of ideas, woven with the creativity that is Sophia Victoria Joy. The story of Sophia Victoria Joy began in 2010. Set up by Sophia (her middle names are Victoria and Joy) the family business runs from her Hampshire-based studio here in the UK. She now has a specially selected team of people working behind the scenes to ensure that every product produced is just as special as the original concept she once dreamed up over a cup of tea.
These stunning, high quality personalised hexagonal marble coasters are a brilliant finishing touch to any coffee table. A lovely addition to any home. These coasters can be beautifully engraved with any name or phrase of your choice.
CHRISTMAS WREATH WORKSHOPS
V V Raven was founded by Jo Thorndike, who is passionate about flowers, styling and creating beautiful original backdrops to life. Based in a pretty village on the Essex/Suffolk border, close to Cambridge, Jo mainly work's in East Anglia but will also travel further afield. Jo only works with the best materials and has an amazing network of British flower growers to enable that the majority of my flowers are 'grown and not flown'. I love to create a wild informal look that accentuates all of the beauty of the flowers and foliage used.
Jo creates the most stunning flowers for Christmas and is holding a number of Christmas wreath workshops, perfect for any budding florists or creatives wishing to make their own beautiful wreath in time for Christmas. Visit the website below for information on locations and dates.
Remi is a little boy, and Onions is his imaginary dachshund puppy. Emma began making baby dribble bibs out of necessity when Remi was just a teething babe and she got some lovely, positive comments while he was wearing them, so she started giving them as gifts. The feedback was so positive, that she began selling them online under the brand name Remi & Onions. Emma is an avid sewer, maker and general creator and also stocks craft supplies. She only sell things that she loves and all fabric goods are handmade in North London, with a little help from my two little helpers.

These gorgeous little heart shapes would keep any creative happy and are made in natural wood and feature a slightly darker edge for a refined finish. These are beyond cute, and perfect for DIY crafts.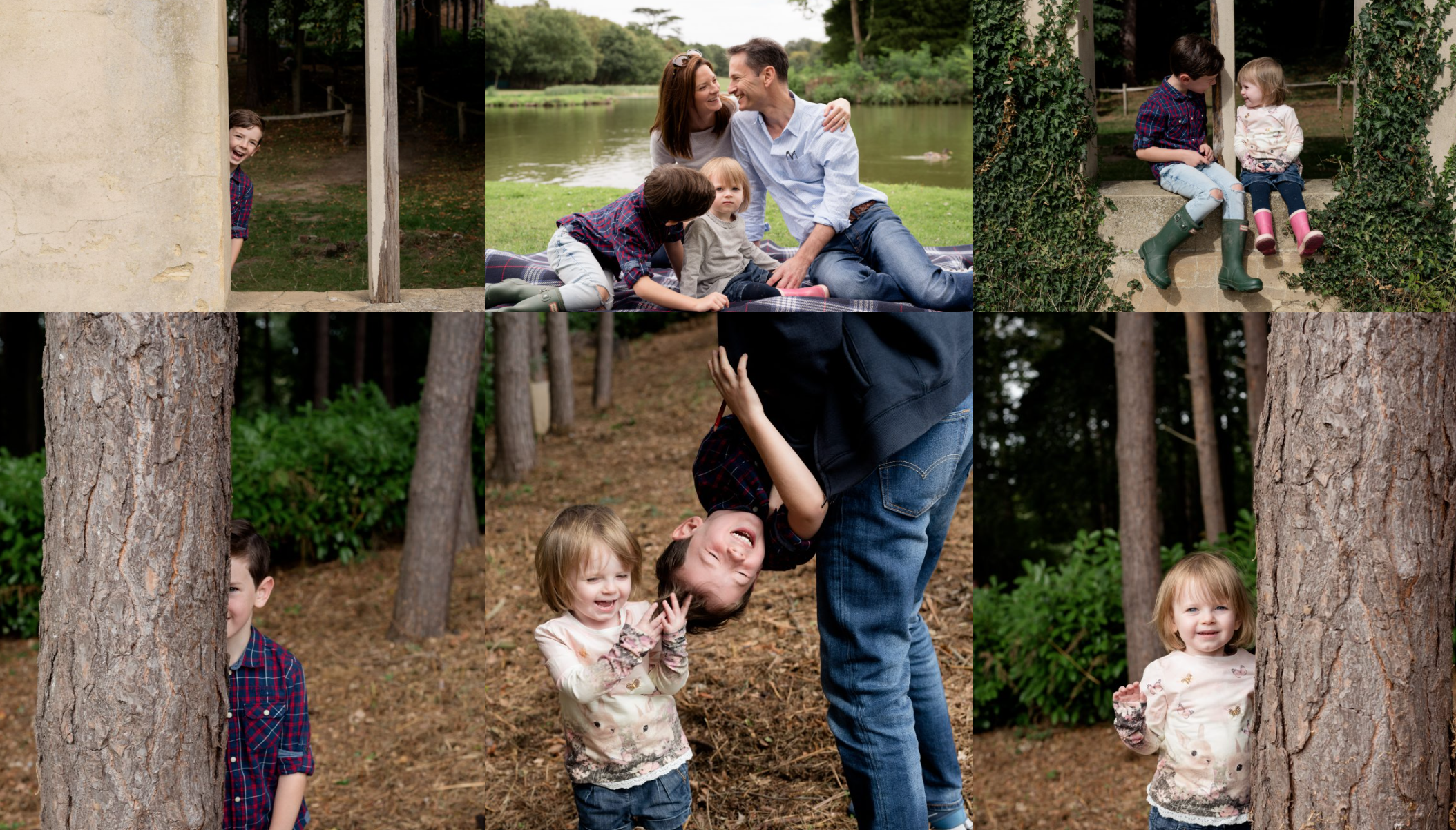 Bethany began taking pictures at the age of 16 and was known at school as "the girl with the camera". For Bethany, photography is about creating memories by freezing time. Having something physical to remind you of an amazing experience or event that's happened in your lifetime is incredibly special and is why photography is so wonderful. Based in Surrey Bethany captures special events such as weddings, alongside snapping families and loved ones in personal shoots and helps small businesses with photography for branding and product launches.
Bethany's Family Portrait Session would make the perfect gift for a creative Christmas, capturing those precious moments between you and your loved ones.
La Shuks artwork itself explores an imagined alternate future, using a collage of landscape photography, blended and warped into a fantasy reality with a kaleidescope of drawn details and patterns of wind currents, rivers and formations of species... the relics of long gone human days, gradually woven into the natural elements, and become part of a new evolution of nature.
Gold In Peaks is La Shuks largest artwork to date, a fabulous gift for any art/travel lover. The photography was taken in the rocky mountains of Canada and is
a hand made silkscreen print, finished with a gold leaf mountaintop and lake.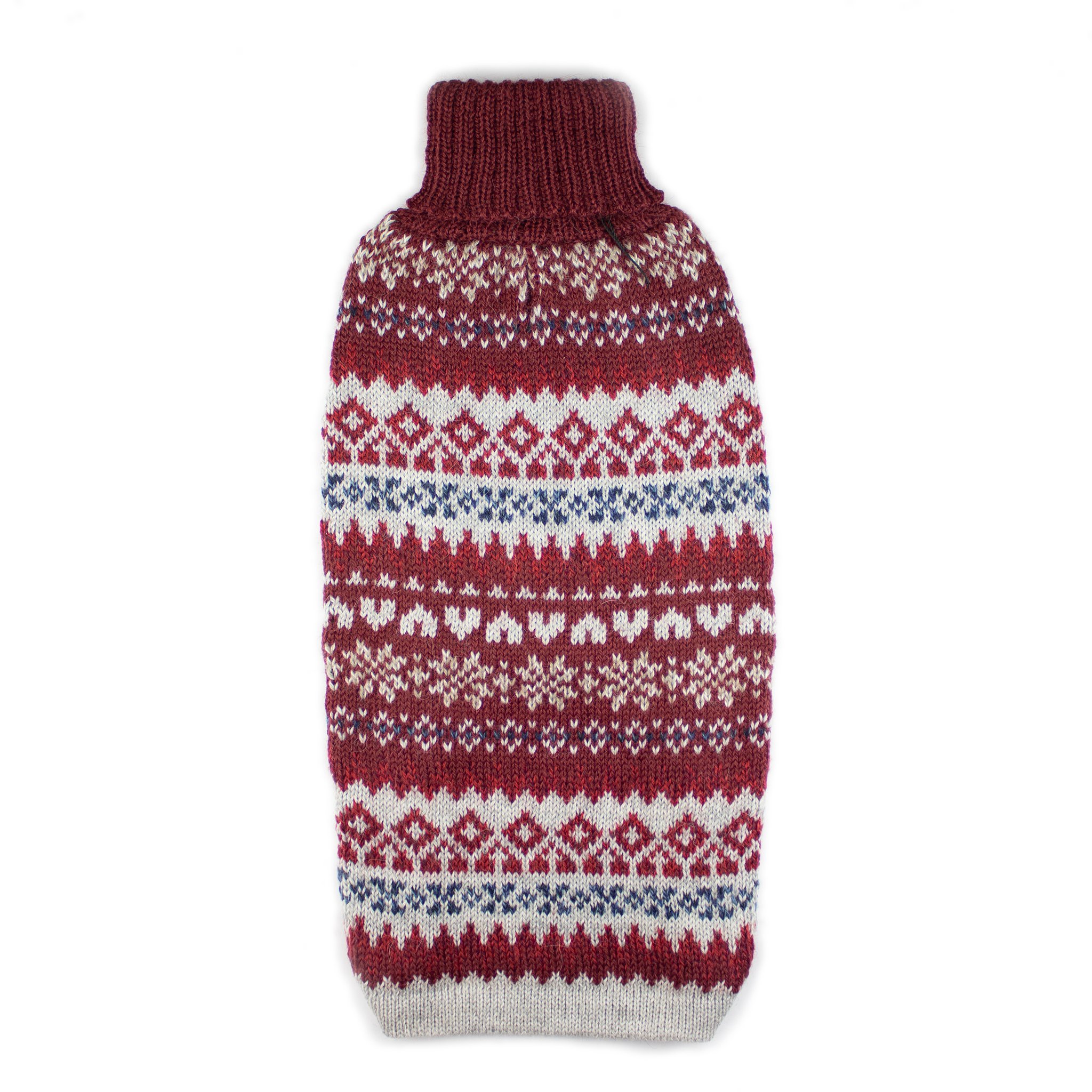 ALQO WASI ALPACA DOG SWEATER
At The Dog Edit, they believe life is better with a dog in it and your dog deserves the best. Based in East Lothian, The Dog Edit team is made up of Lisa and Gary and their rescue dogs, Bobby and Nina. They bring dog lovers everywhere, a carefully edited collection of items for you and your dog. They only sell things we love and use themselves and only sell items that are high quality, functional and look good. They also believe in giving back to dog rescue charities, and have a chosen charity that they donate £1 to for every lead, bow tie, toy and towel sold.
Perfect for the colder months this Alqo Wasi dog sweater is cosy and oh so stylish. The Fall Medley sweater features rich tones of burgundy, cream and accents of blue. Handmade in Peru, the guys at The Dog Edit love the ethos of the company who make the doggy jumpers as they employ women with skills in weaving, knitting and embroidery who live in vulnerable and marginalised areas, and provide them with training and opportunities.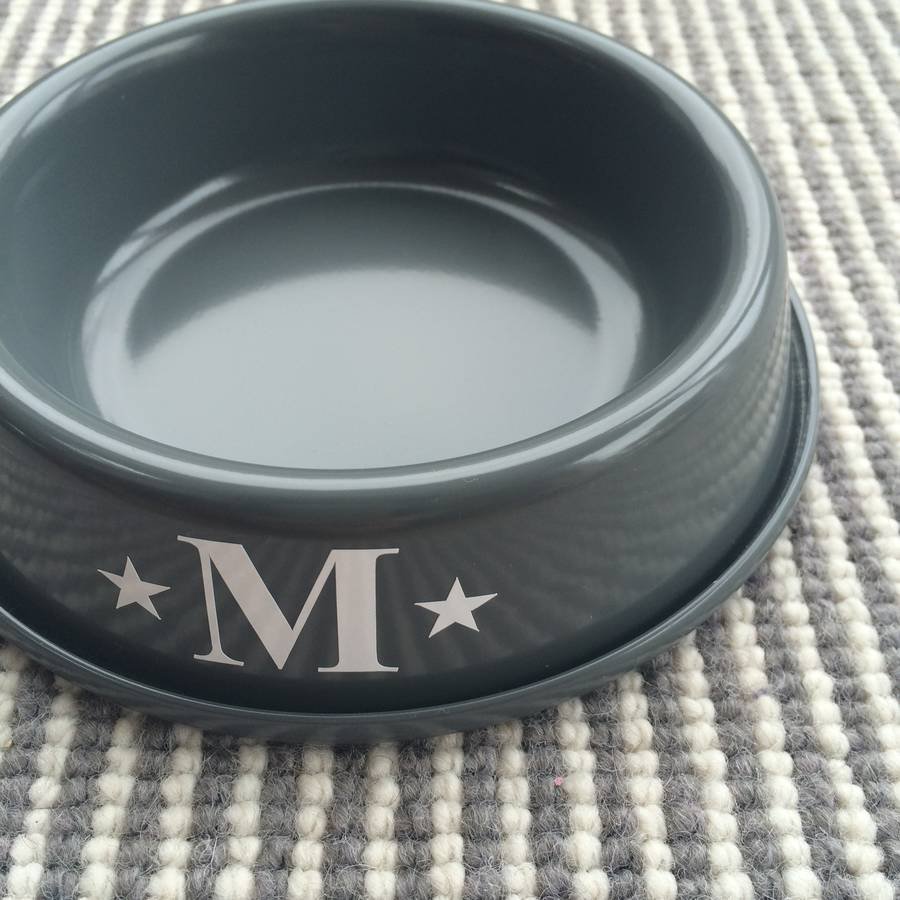 PERSONALISED INITIAL PET BOWL
Adra, a Welsh word for 'home' was founded by Angharad Gwyn, and is dedicated to sourcing and selling gorgeous Welsh products for you and your home. Adra know there's a lot of beautiful things made in Wales that deserve to be seen by a wider audience. All their products are carefully sourced from Wales, designed by Welsh designers or feature the Welsh language, and are made by artists, craftspeople and small, independent producers from across Wales to a high standard. They believe it's important to support small, local suppliers.
This grey enamel cat or dog bowl, can be personalised with an initial of your choice and a star at each end. A pefect gift for any animal lover or your own cherished pet.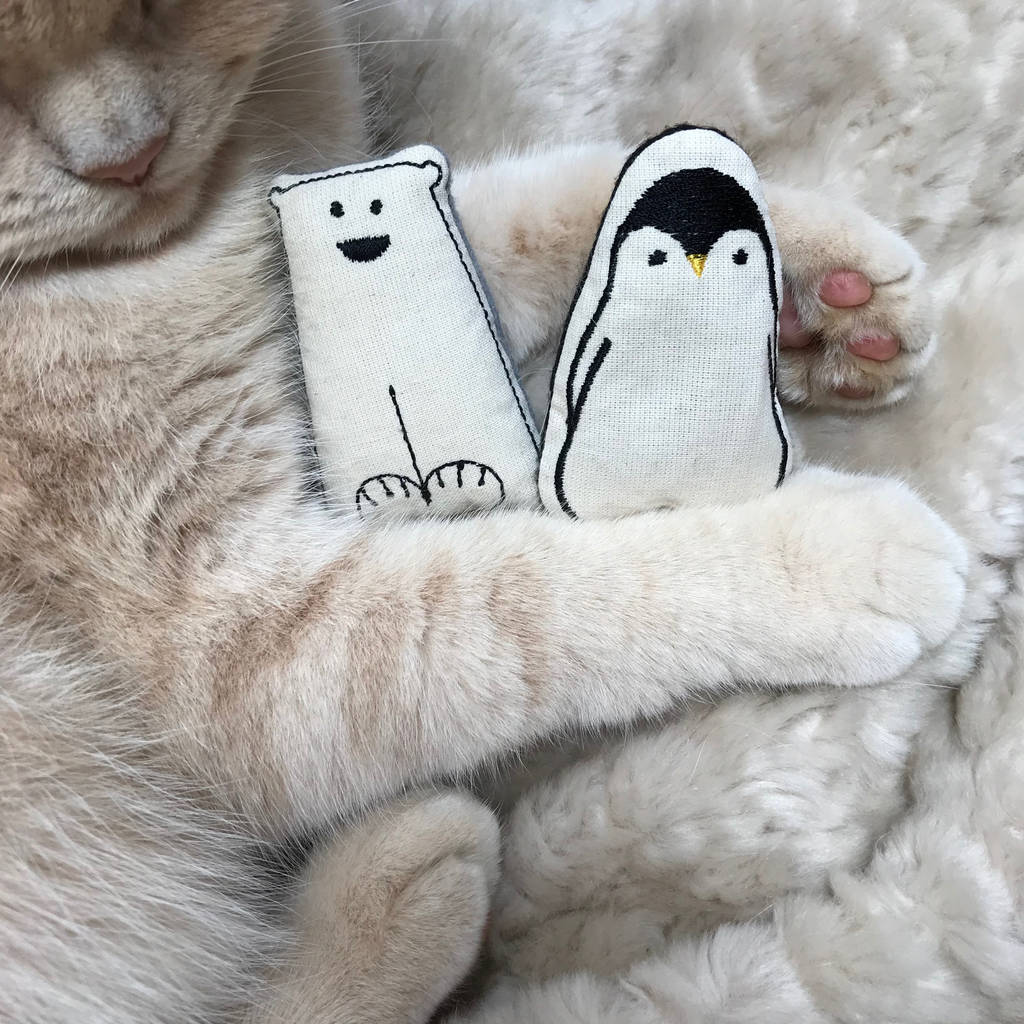 CATNIP PENGUIN & POLAR BEAR CAT TOYS
Freak Meowt creates cat toys made from high quality fabrics and securely sewn together so they can withstand a ferocious battle with over excited cats!
These cute Catnip Penguin and Polar Bear cat toys come as a set of of two and have an embroidered design on calico to the front and have a felt backing (penguin black and polar bear grey). They are both fully lined for extra durability and are stufffed with extra strong Canadian Catnip and absolutley nothing else. They come packaged in a festive cello bag. Making them a puurfect sticing filler for your feline friend.
PERSONALISED PAW PRINT CHRISTMAS STOCKING
Having found a distinct lack of modern and inspiring art work for their little person's nursery - Modo Creative decided to make their our own. They wanted beautiful colours, quirky design and an inspiring message. Since the early days we have grown our range from just a few personalised prints to a whole range of gifts for every occasion.A lovely modern paw print name christmas stocking.
Now your beloved pets can get in on the festive action with thier very own stocking! This stocking is made from quality heavyweight white cotton fabric and printed with your choice of pet name. Made locally to meet our specifications and high standards, Children and adults alike will love the simple festive design and the quality means it will last for years to come.
Gifts for the Stationery Lovers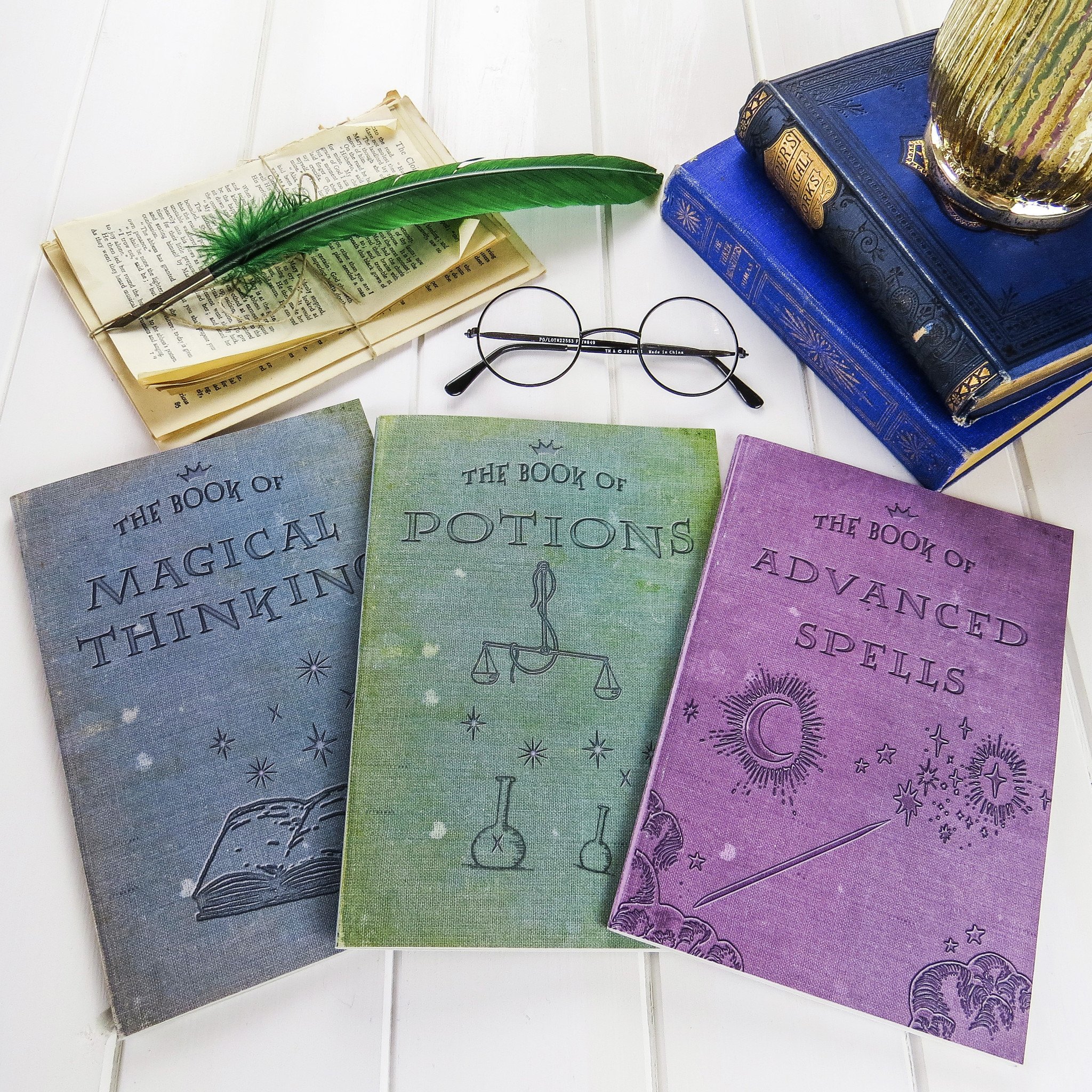 Literary Emporium was established in 2012 as a creative outlet for English graduate, Rio Brown, who united a love of literature with a fondness for handmade crafts to create a range of necklaces with a literary twist. Looking to her bookcase for inspiration, Rio has now developed Literary Emporium's product range to include a selection of jewellery, stationery and accessories.
Record all your magical thoughts in these enchanting A5 magic notebooks. Perfect gift for aspiring witches and wizards! These charming notebooks are designed with a vintage book cover effect and make ideal gifts for fans of the fantasy and magic world. Printed in the UK on recycled card these A5 notebooks have 48 lined pages to fill with your magical ideas. Choose from three different designs or get the set of all three designs for £10!
LIVEWORK GOLD PATTERN PENS
Based in Edinburgh, UK, Fox and Star is an online indie stationery shop. Run by a small team of stationery fans, Fox and Star brings you the coolest stationery from around the globe. They specialise in unique planners, notebooks and pens. They also champion the bits and bobs that make studying, working and playing extra fun like cute stickers, paper clips, deco pens and sticky notesay hello to your new favourite pen.
Livework's super fancy gold patterned ball pens are the easiest way to add a little sparkle to your day. With black ink and a thin casing, these pretty ballpoint pens are the easiest way to add a little luxe to your workspace. Each ball pen has a chic design with varying patterns and gleaming gold accents. With gold stripes, dots, triangles and lots of other gorgeous designs, these Livework gold pattern pens would make a sweet treat for your pencil case or a cute gift for a friend.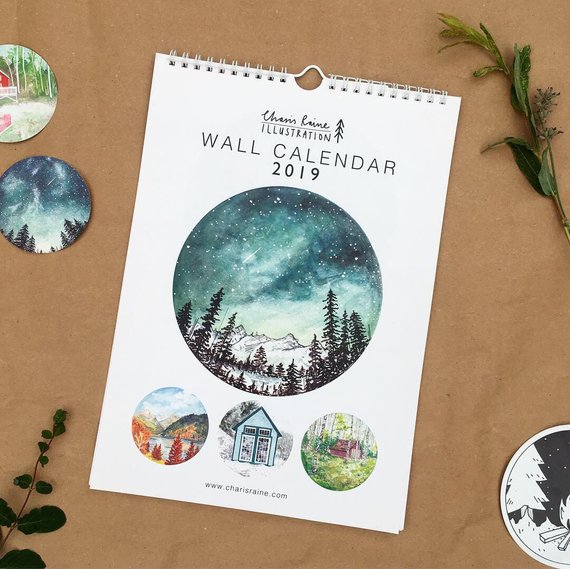 Charis lovingly designs, paints and creates most of her products from her home studio in York, UK. Recently rebranded from Studio Factotum, after many customers told Charis they didn't realise she was the artist behind the products! After finding herself doomed to rubbish hospitality jobs after leaving uni, she decided to start painting again, creating one small artwork a day. What originally began as a way for me to find my creativity again, blossomed into Charis Raine Illustration with help from the Princes Trust. She officially launched in September 2016.

This stunning wall calendar features 13 pages of original colourful gouache and watercolour paintings. Each page is designed so that you can cut out the illustrations for a set of mini prints after use.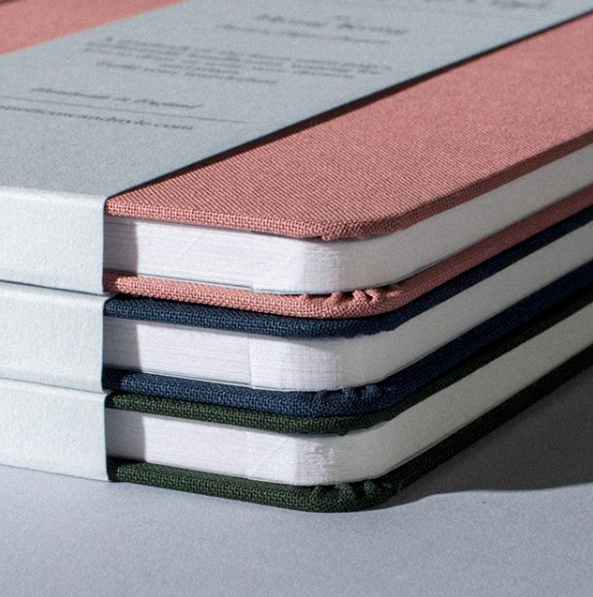 TRADITIONAL HAND BOUND NOTEBOOK
Moments Of Sense & Style, MOSS, was conceived after life took an unexpected turn. Founders Rob and Syreeta's world was turned upside down, when Rob suffered a brain haemorrhage and stroke in Sydney in 2014. The brand was born from a desire to create light out of the darkness; an innovative and conceptual approach to dealing with life changing events. The old adage rings true. A rolling stone gathers no moss. Their life before was hectic and always on the move, urban nomads, never still, but life and tragedy made the couple stop; stop rolling, time to gather moss, take roots.
Rob and Syreeta now design and develop the most beautiful products, each is considered and true to their ethos; created with grace, magnifying beauty, luxuriating in simplicity. Each product is integral to their story, lovingly and proudly made in England. MOSS also support British manufacturing and ensure every detail is beautiful and of the highest quality.
This stunning notebook is of the finest plain pages, traditionally hand bound, waiting for you to draw or write your plans.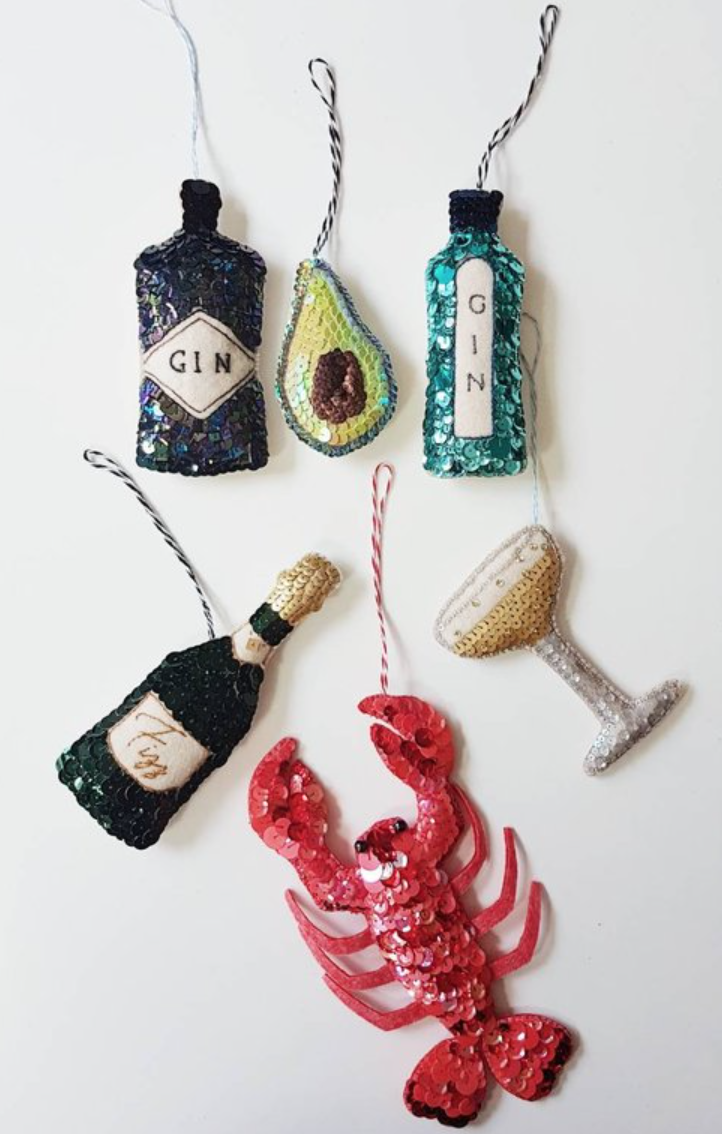 CHRISTMAS BOMBAY GIN HANDMADE SEQUINED
HANGING ORNAMENT
Kate Gwilliam embroiders custom designs & monogramming in Welwyn Garden City.
These sweet hanging ornaments are perfect for hanging on the tree this Christmas. Hand stitched onto wool felt with a mix of blue and turquoise toned sequins this is a perfect gift for a Gin Lover at Christmas. See the full range over on Kate's Etsy page below.
HANDMADE MACRAME WREATH WITH POM POM
The Forest & Co. is an online company, based in Devon, who look for beautiful things for the home, to wear and for children, which feel different and special. They want their products to bring out the individual in you and hope that you will find something that you will simply love and keep for ever.
This gorgeous white hand made macrame wreath with wool pom pom's, bring's a touch of boho to any home this Christmas.
FRIENDS INSPIRED CHRISTMAKKAH CARD
The one with the Holiday Armadillo

Foggish sell cards for almost every occasion, alongside quirky wrapping paper designs and art prints that will make you giggle. If you're mad about colour, love all things pop culture then Foggish designs are for you!
This is one of my favourite Friend's episode's, so when I saw that Foggish had a card dedicated to the Holiday Armadillo, I just had to include it in the gift guide.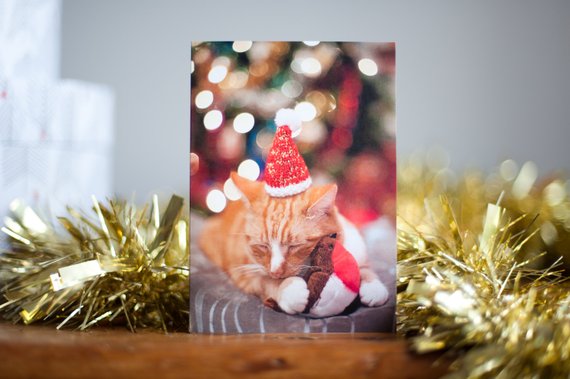 CAT IN HAT CHRISTMAS CARD
Bifrost Photography was founded by Libby, a photographer from the South-East of England, who now creates cute and quirky products from her photography projects.
This sweet Christmas card is perfect for any cat lover this festive season. All cards are printed on luxury card stock from sustainably sourced paper with a matching envelope.